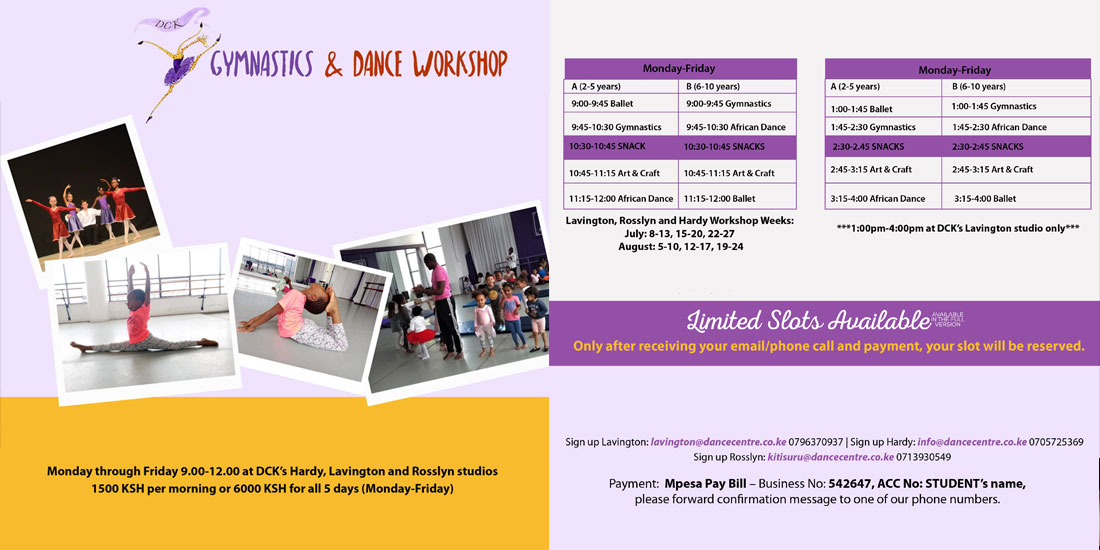 DANCE AND GYMNASTICS WORKSHOP
We are almost coming to the end of the term. If you are looking around on what to do to keep the little ones busy during this long holiday, DCK offers what you are looking for. Dance Centre Kenya is offering its annual holiday workshops for three weeks in July and three weeks in August.
The workshops are an opportunity for the children to learn different dance and movement disciplines. It will also be an opportunity for them to make new friends as they interact with children from other schools, cultures and countries. The program will include Gymnastics, Ballet, Arts and Craft and African Dance. It will run from 9:00am-12:00pm from Monday to Friday in all the three studios and 1:00pm4:00pm, Monday to Friday in our Lavington studio only.
Charges: Monday to Friday- Ksh 1,500 per morning or afternoon or Ksh 6,000 per week.

Call 0705725369 for the Hardy studio or 0796370937 for the Lavington studio or 0713930549 for the Rosslyn studio to book your space. Workshops slots are limited and running out fast.
Looking forward to having you with us over the holiday.