Founded in January 2015, Dance Centre Kenya (DCK) has grown to become Kenya's pre-eminent dance school with over 700 students taking classes in the three DCK studios (Karen Hardy, Lavington and Rosslyn) and approximately 1,000 more taking DCK taught classes in 22 schools throughout Nairobi.
From small beginnings, established by a few families of talented dancers who wished to advance their children's training, the Plumbe, Shaw/Dolan and Vadera families came together to establish a new dance school in Nairobi.  With very different backgrounds and professions, these families shared the same vision of providing a world class level of training to the children of Kenya.  Professional American ballerina Cooper Rust was brought on board as Artistic Director and so, Dance Centre Kenya was born.
Since then the number of students has grown and the range and styles of dance classes offered has expanded greatly. The breadth of support and involvement of artists and ballet lovers both locally and abroad has been humbling. The initial performance on a makeshift stage in the gardens of the Purdy Arms without tutus has now transformed to the spectacular ballets audiences have grown to expect on the stage of the Kenya National Theatre. The Nutcracker at Christmas time has become an annual tradition on the Nairobi social calendar and now includes collaboration with the Nairobi Philharmonic Orchestra and visiting international conductors and guest musicians. The magnificent stage sets and costumes delight time and again with a repertory that includes Cinderella, A Midsummer Night's Dream, and now Romeo and Juliet with returning DCK students who have been training abroad.
Throughout the pandemic, DCK has continued to provide its students with world-class dance and gymnastics training whether through virtual learning or live class in our three studios across Nairobi.  All of this was culminated with a first-time back-on-stage virtual recital held in June of 2021.
From DCK's inception there has been a commitment to reaching into the Kenyan community and finding talented students, irrespective of their ability to pay for training.  DCK's sponsorship program, in conjunction with American charity Artists for Africa, has already affected the lives of many future dancers from disadvantaged backgrounds.  We are honored to have both generous local and international sponsors for these talented dancers and for the past five years a number of our students have travelled to the U.S. to train in South Carolina while others have been accepted in summer intensives in Europe.  Some of DCK's sponsored students are now in full time dance training programs abroad and others are in colleges and universities using the skills gained from their dance training to pursue their own dreams. Most recently Joel Kioko, one of DCK's first sponsorship students, has been given a contract to dance with the Joffrey Ballet of Chicago for their 2021-2022 season.  With a training program based on the Royal Academy of Dance (RAD) Syllabus and annual examinations, as well as multiple performance opportunities, DCK provides aspiring dancers with so much more than just technical training.
Graduate from the English National Ballet School London, UK
Joffrey Ballet Chicago, USA – 2021-2022
Now with the Nevada Ballet Theatre, USA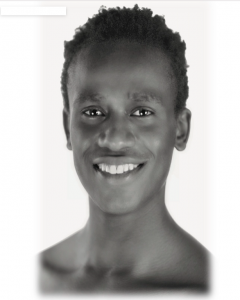 Lines Ballet, San Francisco, USA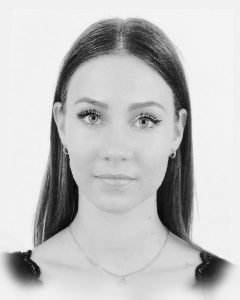 University of North Carolina School for the Arts, USA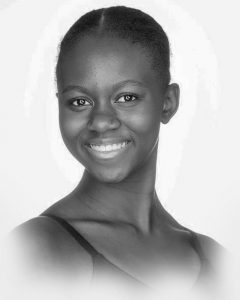 Graduate from Performers College Essex, UK
Now auditioning in the West End, London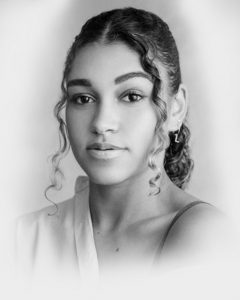 Cameron University Theatre Program, USA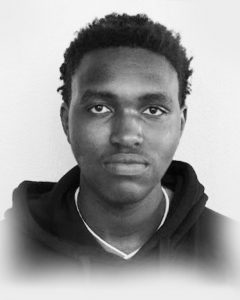 English National Ballet School London, UK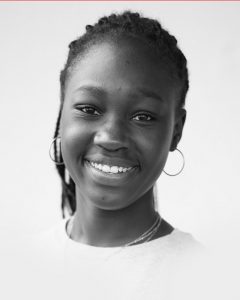 Executive and Artistic Director
Cooper
Rust
Cooper hails from Columbia, USA and trained in classical ballet, jazz, modern, tap, and musical theatre for more than fifteen years beginning with Ann Brodie and finishing at schools including the School of American Ballet and the Harid Conservatory. While dancing professionally with three American ballet companies, she acquired a bachelors' degree in Dance Performance and Choreography as well as European History from the University of Nevada. She achieved marks of distinction in her Post-Graduate Teaching Certification from the Royal Academy of Dance London and holds a pilates certification through DK Body Balance.
Caroline
Slot
Caroline obtained a Bachelor of Dance in Jazz- Musical Dance at the Amsterdam School of the Arts. During her training, she received classes in ballet, jazz, contemporary dance, tap dance, singing, musical theatre and acting and worked with directors/choreographers WiesBloemen, Eddy Habbema and David Greaves. Caroline has been working for Dance Centre Kenya since January 2016.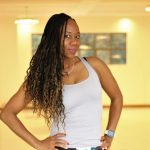 Maylene hails from Zimbabwe and trained in ballet, hip-hop, contemporary, jazz, edu-dance, Martha Graham technique and zim-traditional dances at the National Ballet of Zimbabwe in a dance program, Dance Foundation Course (DFC). Maylene is a recipient of the National Merit Arts Awards (NAMA) for Outstanding Female Dancer as well as Dance Trust of Zimbabwe (DTZ) Tereza Carter Trophy of Most Excellent Dancer. Worked with Tumbuka Dance Company from 1999-2015 and has travelled regionally and internationally in dance projects, workshops and festivals. Certified as a RAD Ballet teacher in 2018, Maylene has been working for Dance Centre Kenya (DCK) since 2019 as a ballet and contemporary teacher. Dance for Maylene is an art that brings love, passion and hope to live in the present, so be in the moment.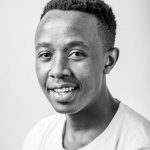 Henry has been a ballet teacher since 2018 at Dance Centre Kenya. He also teaches other forms of dance like African dance, afro and contemporary. Currently he is studying to become a certified ballet teacher (CBTS). He has taken part in Dance Centre Kenya's ballet shows like Swan Lake where he was the leading hunter, Alice in Wonderland where he performed multiple roles like Arabian Nights and the cards, Midsummer Night's Dream where he was one of the lead dancers in the role of Lysander, Romeo and Juliet where his role was one of the peasants, the Nutcracker where he performed multiple roles like the Nutcracker, Luisa Beu, Arabian Nights and Party Father. He has taken part in choreographing multiple ballet pieces in Dance Centre Kenya's end of year recitals.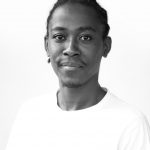 Charles is a dancer and dance teacher, whose love and passion for dance started back in 2011. He has trained in various dance forms; African traditional dance, afro-fusion, jazz /contemporary. He has performed around Kenya in national and private events. He discovered his love for ballet in 2020 and is currently at Dance Centre Kenya as a trainee teacher taking ballet classes.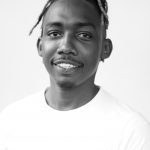 A dance teacher and student at Dance Centre Kenya. Loves dancing as a hobby and as a profession. Has taken part in different performances around Nairobi, Kenya and also taken part in Dance Centre Kenya's shows like the Nutcracker as a Party Father and Cinderella  as Summer Cavalier. His life goal is to help every dancer he comes across and make them reach their full potential in dance and life. Also works in IT as a website consultant at Dance Centre Kenya.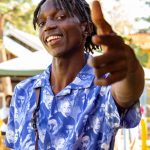 Nathan Kiplangat Bett (Bolt), a dancer/dance teacher and a lover of art and dance with 8 years of professional dance experience. He started his dance journey as a street dancer as the leader and choreographer of a dance crew (Swift Crew). He did Club shows and music videos for local musicians and posted content online. This was mostly passion driven, not income. Then he progressed to roadshows and product activations where he made a name for himself and worked with some household brands e.g Haco tiger brands, Soko ugali, Hallmark, after which he moved on to work with the big names in the entertainment industry. He started teaching professionally at Laiserhill Academy in 2016 and later made a network of his own private clients and companies. He started teaching at DCK in 2019 and the journey continues. He has specialized in Hip-Hop, Afro and Dancehall and his current love/interest is in Contemporary Dance.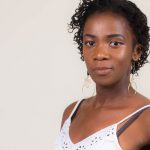 Stacey Achieng' is a dancer, dance teacher and a choreographer based in Nairobi, Kenya. Nairobi Ensemble Folk Dance Group was her first home as she began her dance journey. She later joined a tap dance workshop by Stefanie Weber and they danced for rain which was held at the Go-down Art Centre in 2015. Stacey has learnt contemporary and afro-pop through a series of workshops and classes held in Nairobi. Adam Chienjo, a renowned dancer and choreographer in Kenya, played a big role in her dance journey.
She is the chairperson of a tap dance group in Nairobi called TapaTapa, whose main goal is to empower the community. TapaTapa has organized a tap dance teaching tour around Nairobi, working with vulnerable children in the informal settlements. Stacey is the Co-founder of Kuza Kipaji, a community-based organization empowering children and youth through music, dance, and visual arts. Ms. Stacey likes to teach, mentor and encourage children and youth from all walks of life. She was part of the Nyanga Runaway Grandmother Opera. The Opera was held at the Kenya National Theatre with over fifty cast members from all over the world. Stacey is currently working at Dance Centre Kenya as a consultant teacher, giving lessons in tap dance and musical theatre.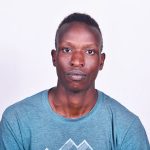 Antony is a dance teacher at Dance Centre Kenya since 2018. He teaches ballet, hip hop, African dance and other modern dances at DCK and in schools. In the previous years, he has performed in different ballet shows like, Alice in Wonderland, Swan Lake, Nutcracker, A Mid summer Nights Dream, Romeo And Juliet and in 2019 he was given a big role of becoming the Nutcracker. He has also choreographed different performances like Mother Goose and many more. Antony has done ballet exams (Intermediate, Advance Foundation and Advance 1) and received ballet certificates from the Royal Academy Of Dance(RAD). He is currently doing his online study Certificate in Ballet Teaching Studies (CBTS) with the RAD to be come a certified RAD teacher.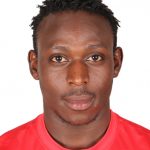 A professional acrobat/gymnastics coach. Done acrobatics since childhood, toured China 2019-2020 for performances. Currently working with Dance Centre Kenya (DCK), teaching beginners, playgroup, levels 1,2,3,4,5 and advanced gymnastics. My drive as an artist/gymnastics coach is to share my art with the world and enhance joy, positivity, courage and confidence to my students.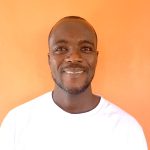 A certified social circus teacher Cirque du Soleil Africa project, level 2 power yoga instructor, qualified ECDE teacher, experienced gymnastics teacher, TV children's productions/ activities, choreographed performances with Umoja Cultural Flying Carpets, Sarakasi Trust, church and community, tours and performances as an artist in African countries, Europe and Asia. Teaches gymnastics at Dance Centre Kenya (DCK), Loreto school, Montessori school, the French school, Braeburn school, Pearl Hearts and the International School of Kenya. Been at Dance Centre Kenya for 5 years now.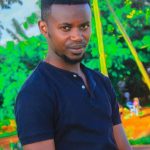 A gymnastics coach and a trained pre-school teacher by the A.I.C Training Center Nairobi. Started coaching gymnastics at Dance Centre Kenya in the year 2019 for levels 1, 2, 3 and 4. Has worked with institutions like Key International School as the head gymnastics coach for the school gymnastics club, International School of Kenya (ISK) for the summer camp, Braeburn school Thika gymnastics club, Loreto Convent Msongari and Loreto Convent Valley Road gymnastics club as the main coach. During his free time, James loves to exercise, watch movies and play piano.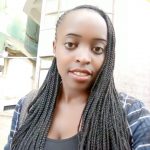 She started acrobatics and gymnastics activities while still a child.
In 2004, she travelled to China- Wuqiao Acrobatic Art School to train in acrobatics, gymnastics and circus entertainment for which she obtained a certificate. She returned to Kenya to continue with her education but was still training at Sarakasi Dome. She later joined Mighty Jambo Trust to train gymnastics, acrobatics and circus.
In 2011, she travelled to Turkey as an acrobat and circus entertainer for 9months.In 2012, she travelled to Norway as an acrobat, circus entertainer and trained gymnastics in a private group session for 2 months. She has performed acrobatics, circus, African and modern dance in Taiwan for 1 year.
She later returned to the country, and continued training and mentoring in acrobatics, gymnastics and circus in different children's homes.
She has worked as a trainer in different schools under Vipawa Hub Africa, Gymnastics and Fitness Center, Kids Gymnastics Kenya, Cheza Gymnastics and Dance Centre Kenya.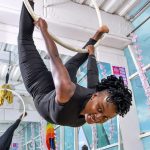 Hilda is an artist. She started doing acrobatics, gymnastics and aerial acts in 2005 at Sarakasi Trust. She has been performing and teaching gymnastics/aerial acts since 2010. She started teaching adults fitness training in 2015 and also a trainer at Shakti Female Studios based in Kilimani. She is currently working at Dance Centre Kenya as a kids' gymnastics coach.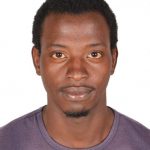 A professional gymnast, performing artist and an acrobat. Good management skills and good with children of all ages. Worked with Nafsi Africa Acrobat, a community based organization that deals with teaching street children acrobatics. Currently working at Dance Centre Kenya teaching kids' gymnastics. Performed in several countries in Europe, North America and Asia.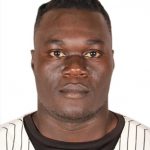 Dancun is an acrobat, dancer and gymnastics coach for level 1,2 and 3 at Dance Centre Kenya. He has worked with International School of Kenya, Raha Kids and Pearl Hearts as a gymnastics teacher. He has Performed in both China and Africa. He is the founder of Plot Family Dance Group and he likes giving back to the community, playing with children and teaching them dance and gymnastics.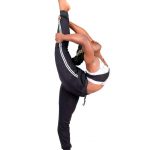 A certified gymnastics coach for levels 1, 2, 3, 4 and 5 at Dance Centre Kenya and Cheza gymnastics. She is a passionate teacher and coach who loves training to get better each day. She takes adult ballet, contemporary dance and acro-contemporary at the Dance Centre Kenya, which has improved her coaching/teaching skills.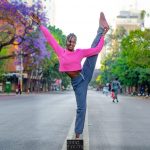 Vivian is a student, a dancer and a gymnastics coach. She started her professional career back in 2019 at Dance Centre Kenya as a gymnast. In 2021, she participated in The Nutcracker as a Party Mother. She takes gymnastics, ballet, tap and contemporary dance at Dance Centre Kenya. She teaches Zumba and modern dance in various private gyms, a level 1 and 2 kids' gymnastics Coach in various schools including Loreto schools, Waldorf school, Montessori Hopes and dreams and Pearl Hearts Kindergarten under Cheza Gymnastics.
Dance Centre Kenya regularly collaborates with local and international guest teachers, choreographers and performers.
If you are interested in such a collaboration, please click the button below to contact us. 
Contact Us
Dance
Centre
Kenya
Committee
Bilu is a Kenyan Engineer, specialised in irrigation and alternative energy with a postgraduate degree from the UK. He owns and operates a number of companies in Kenya. Bettina is from Germany, residing in Kenya since 1993. She is a medical doctor with specialisation in Emergency & Tropical Medicine and holds a PHD in Nuclear Medicine from Germany. Both Bettina and Bilu have a strong interest in dance as two of their three children are passionate about dancing.
Tonya & Nigel Shaw are from Kenya. Nigel is third generation Kenyan; Tonya has lived here since she was 7 years old. They both schooled in Kenya and abroad and returned to Kenya once they had completed university. Nigel is a lawyer and Tonya a Clinical Psychologist. Their youngest daughter developed a passion for dance when she was 3 years and is considering pursuing dance as a career. Tonya and Nigel came together with a group of other parents to set up Dance Centre Kenya to provide a pre professional level of training for dancers in Kenya and to encourage and support youngsters wishing to pursue dance.
Christiane was born in Switzerland. At an early age she developed a strong interest in ballet and artistic gymnastics and trained in both disciplines. She later worked for a humanitarian organization and was sent to Rwanda in 1994. Even though it was an extremely hard time, as she set foot on the African continent she felt an immediate connection. She has since lived and worked in almost every East African countries and some West African ones and has eventually settled in Kenya in 2000. She has a degree in Library and Information Science and a Post Graduate degree in Education. Stephen is a Kenyan citizen, of third generation. He is an engineer with a degree in mechanical engineering from the UK and has specialized in water and steam engineering. Stephen and Christiane have two daughters and a son who all show a profound love of dance.